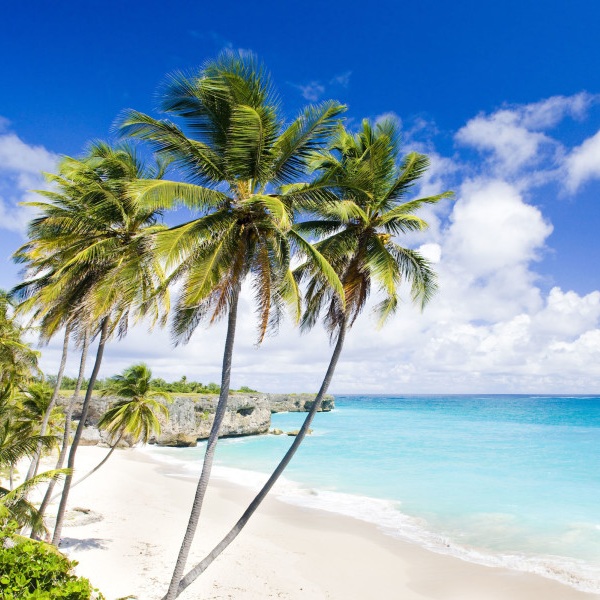 Barbados is one of the few Caribbean islands solely colonized by one nation. It's no wonder Bajans describe their country as being "more English than England herself," surnames like Worthing and Hastings abound. But look around and you know you're not in England: rich and fertile tropical fields meet a glistening, azure sea. The soft pastels of old chattel houses blend with the vibrant reds, oranges, and greens of roadside fruit stands. In short, Barbados exudes a charm all its own. Perhaps it is due to Bajan culture, that celebrated blend of English tradition and the African heritage brought to the island by slaves imported to work the sugar plantations. The potent brew which results flavors every aspect of island life, from music, dance and art, to religion, language and food.


Join us at our exclusive port of call, Princess Cays, where you'll enjoy a private beach party on the island of Eleuthera in the Bahamas. One hundred miles long and only two miles wide, Eleuthera offers unspoiled beaches. Our private resort at Princess Cays is situated on more than 40 acres and features over a half-mile of white-sand shoreline, all at the southern tip of the island. The resort boasts outstanding amenities while carefully preserving this natural paradise. Take in the views from the observation tower. Enjoy a complimentary beach barbecue. Sip a cool drink or browse the shops and the local craft market. All of Princess Cays' facilities are linked by walkways. Recreational activities abound. Enjoy volleyball and a full range of water sports, or simply relax on the beach.
From mariachis to margaritas, Mexico is where it all began for Princess with our first cruise vacation in 1965. Fifty years later, we continue to visit the best of the region on a wide variety of sailings to the Mexican Riviera roundtrip from Los Angeles or San Francisco, with stops in colorful Puerto Vallarta, the playground to the stars, Cabo San Lucas, colonial Loreto and more.









San Juan del Sur, Nicaragua
Located on a 4000-acre expanse of Nicaraguan jungle, nearly half of Morgan's Rock's vast property is a private protected reserve. Its concept and operation reflects this whimsical feeling of privacy and seclusion. Carefully built to minimally impact the surrounding area, the Lodge boasts a unique blend of tropical vibrancy and architectural comfort.



Situated on the Pacific coast, Panama City is one of the crown jewels of Central America. This destination's blend of world-class culture, historical importance and natural beauty make it a must-see destination.
There's no better way to truly experience the laid-back Caribbean than with Princess. Our award-winning shore excursions and fascinating onboard programs bring the culture and colors of the islands to life. And with a wide variety of itineraries, we make enjoying multiple world-class beaches on one cruise possible.
Join a family as it experiences lush, wondrous St. Lucia for the first time. From breathtaking rainforest waterfalls and white-sand beaches to the unmatched on-ship experience, Princess offers cruises to St. Lucia that are unlike any other. Watch this drone video showcasing a tropical St. Lucia vacation with Princess Cruises, then book a vacation of your own.